Unique 11" globe educates as it entertains. Colorful clear images of 263 animals are shown in their natural habitat. When illuminated, the 11" model shows ocean animals. The globe comes with an animal encyclopedia which contains interesting facts on each animal.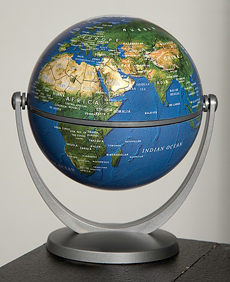 4" Swivel and Tilt globe collection
A worldwide best seller, the 4" Swivel and Tilt globe collection combines cutting edge technology with unparalleled clear print quality. Once you pick one up, it is hard to put it down. The design allows the globe to be rotated in every direction. These fun bright globes are sure to become a favorite.